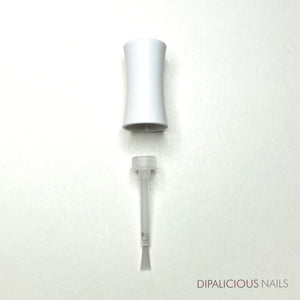 Dip Liquid Brush Cap
Includes 1 cap and 1 brush insert.  May come in separate pieces. To assemble, place the new brush into the bottle and screw the white cap down with pressure to set brush stick into the cap. 
Dip application and removal instructions
TIPS
For hardened brushes, soak in Brush Saver until softened.
DO NOT pull, tug or pick any hard bits from the bristles and avoid wiping them between paper towels to clean. The tension can cause the bristles to come out.
SWIPE your brush very gently on a paper towel if needed to remove any debris or glitter.
---
We Also Recommend
---