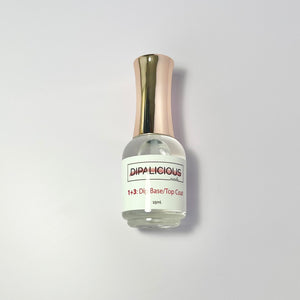 Step 1+3: Dip Base/Top Coat
For applying dip powder to the nail. Needs Step 2: Activator to cure and dry. Can also be used as a Top Coat or a slow drying nail glue. To use as nail glue, allow 30 seconds to become tacky before applying tips, gems and other nail embellishments. 15ml glass
Buy more, save more. Choose your quantity in the drop down menu.
FOR A LIMITED TIME receive a 15ml Brush Saver free with purchase.
Ingredients: Ethyl Cyanoacrylate, Polymethyl methacrylate
Dip Application and Removal Instructions

For hardened brushes, soak in Brush Saver until softened.
SWIPE your brush very gently on a paper towel if needed to remove any debris or glitter.

---
We Also Recommend
---